Our AI Services
Hold the Key to a
Better Future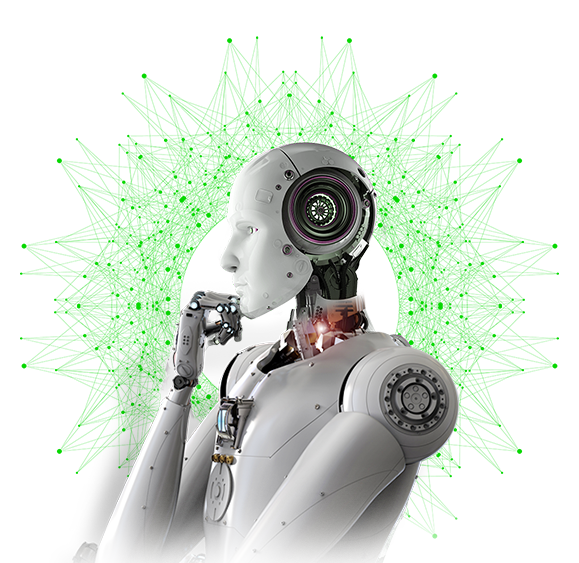 Artificial Intelligence (AI)
Artificial intelligence (AI) is the key to transforming our reality. It simplifies complex tasks, deals with exponentially growing amounts of data, speeds up time-hungry processes, and opens the door to creating entirely new products and services in each and every field in which it's used.
How Can
AI Services

Support Real Business Needs

Automation at Scale

AI software development services enable businesses to save time and money by automating and optimizing everyday processes and routine operations.

Holistic Insights

Use fact-based insights from AI software to predict customer preferences and offer them a better and more personalized experience.

Better Decision Making

Make faster business decisions based on outputs from cognitive technologies. Grow your expertise by enabling analysis that offers intelligent advice and support.

Increased Productivity

Enhance business productivity and operational efficiency utilizing the latest AI development services. Avoid production loss or insufficient product quality.
Our
AI Development

Services
Our Artificial Intelligence Developers use machine learning to build AI solutions that can gather unstructured data and convert it into actionable insights to drive business growth.
Our AI engineers create and perform strategies to execute optimization, customer analysis, forecasting and performance analysis.
Natural Language Processing (NLP)
With NLP and NLU, our AI developers can help organizations analyze customer feedback and sentiment to improve customer engagement and increase business revenue.
Our AI Software Development Experts have experience in developing solutions for the recognition of objects and classification of images using Amazon Rekognition and Deep Learning-based Visual Search.
Our AI developers also build voice assistants using NLP and voice recognition that enhance brand awareness and boost productivity through voice search.
We engineer chatbot solutions that act like humans. Our artificial intelligence software development team develops chatbots that facilitate personalized interaction to increase loyalty and customer retention.
Copyright © 2010 - 2023 Xiteb® All Rights Reserved